Some previous projects we have completed
WeaverTherapies.co.uk
Weaver Therapies is a local complementary therapeutic and holistic treatment provider that wanted us to develop her website to showcase the treatments she offers as well as prices, testimonials and give potential customers an easy way to get in touch.
BCMT.co.uk
BC Motorcycle training wanted a new website as there previous one was looking dated, we designed them a new, more modern looking website that now also allows them to take bookings online, take deposits and give their customers far more information on the services they offer than there old website did
NorthwichTaxis.com
Dacians Travel Class is a Taxi firm based in Northwich but that covers cheshire and surrounding areas. They wanted a new website that would allow customers to see some common trip prices (nights out to Manchester, Liverpool and airport transfers) as well as allowing customers to easily send a message to book rides or ask for quotes.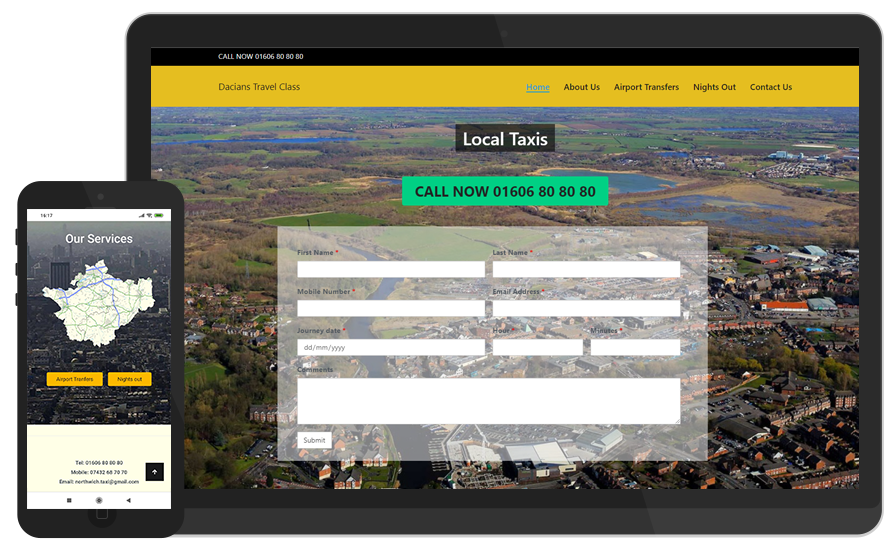 CheshireWraps.com
Cheshire Wraps wanted a website they could use to showcase there car wraps as well as let customers know what services they offer
Calmer Sea
We were approached to developed Calmer Sea, a mental health and well-being mobile application that adjusts the exercises it gives you based on your issues and answers in previous exercises. The client already knew what he wanted and how it would work but dident know how start with application development so we discussed his needs and started work, having regular meetings to ensure the final app reflected his idea. The application as well as including over 20 therapies and techniques over 200 exercises covering audio, video, yoga and written, needed a bespoke chat function and forum built which we designed from the group up to insure it met the client's exact specification.